Suffice to say Adrian Attenborough is going to make an appearance, or ten, in the next PokerNews Hands of the Week column, especially after a couple of world-class plays he made late on Day 7 of the 2022 World Series of Poker Main Event.
In one hand, he made a difficult call on the river with top pair, and in the other, he risked his entire tournament life with six-high. Both hands took place in the most prestigious tournament in the world with massive pay jumps on the horizon.
Two Brilliant Plays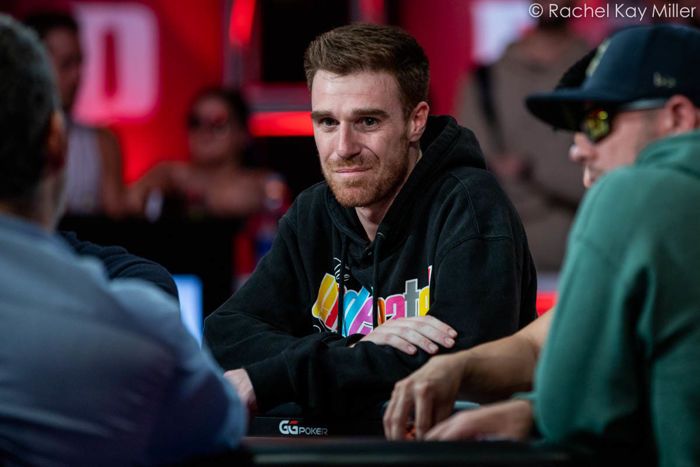 Attenborough, an Australian pro with an impressive resume that includes over $1.4 million in pre-Main Event live cashes per Hendon Mob, has built up the biggest stack with 15 players remaining at the time of publishing. Much of the reason for his monster stack is two plays he made on Day 7 that he'll likely never forget — and neither will we.
In the first hand, Matija Dobric had raised preflop with
from the button and was called by Attenborough, holding
in the big blind. The flop was
and action checked to the preflop raiser who sized up a bet of 500,000, equal to one big blind. Attenborough then came in for a check-raise with six-high to 2.7 million and was called.
When the
appeared on the turn, the big blind continued to tell the story of a big hand when he bet out 7.3 million, leaving just 12.2 million behind. Again, the bet didn't scare his foe away and they both then saw the meaningless
on the river. Attenborough, unwilling to surrender the pot and be left with one of the smallest stacks, fired another bluff, risking his entire stack, and it got through.
In the second hand, later on in the session, the same two players tangled in arguably the most memorable hand of the day. Action was picked up by the PokerGO stream on a flop of
and Attenborough had raised to 4,000,000 with
before being three-bet to 9,200,000 from Dobric, who was holding
and attempting to return the favor by pulling off a bluff of his own.
That bluff didn't get through as a call was made, and then the
appeared on the turn, no help to either player. Dobric, after action was checked back to him, downsized to 5,500,000 and received another call.
The river was the
, again no help to anyone, and Dobric gave it one more shot, ripping off a large enough bet to put his opponent all in (23,200,000). After a lengthy tank to ponder the tough decision, Attenborough made the gutsy call with just top pair and took down a pot of nearly 79,000,000, bringing the Aussie to the top of the chip counts.